You'd be surprised to know that even amidst the Covid-19 outbreak, people are still going out for outdoor adventures in their travel trailers – and so should you. You see, thanks to vaccinations, careful implementation of SOPs, and social distancing, RVing is becoming safer and a perfect way to spend a weekend away from home and in the great outdoors.
There's nothing more refreshing and motivating than to explore a variety of the nation's most beautiful national parks and the freedom to drive on scenic roads. Camping in your overland trailer is fast becoming a popular recreational activity in the US and there are indeed a myriad of wonderful advantages of travelling in the Black Series off road RV. The fact that you won't have to book a motel or hotel room is amazing!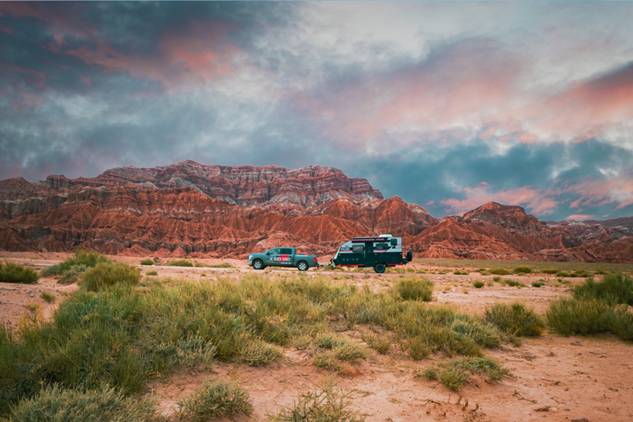 Some Incredible Benefits of Camping in Black Series Travel Trailers
It's Like Living in an Executive Suite on Wheels
Imagine driving through the beautiful flora and fauna of the countryside and bringing all the amenities and comforts of your home. That's literally what the Black Series off grid trailers bring you. Spacious and feature-packed, the HQ RV series combine functionality with easy living. Want to stretch your arms without coming out of the trailer? Check.
Want a comfortably-sized bathroom and kitchen? Check? Black Series RVs boast luxury and elegance – all in one, designed to provide couples and small families with everything they need during long trips. The trailers come fitted with a full-size fridge, a stove top, microwave ovens, separated toilet and shower, and a score of other fixtures and fittings. There's really nothing you could ask for more in their 28 ft. trailers.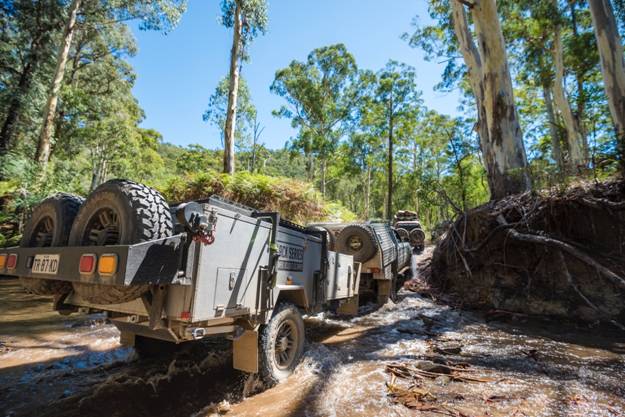 All Weather Camping
While travelling in your RV, you would normally expect a couple of setbacks. For example, nobody can predict the weather and it could end up getting a bit dicey in a split second.
Instead of setting up a camping tent and wait for the thunderstorm to pass, you can relax in your spacious HQ19 off road trailer that comes with a new sofa structure that's designed for more ergonomic comfort and has a raised back rest so that you can lie down and read a book.
The new bed structure is designed with softer materials to help you nap peacefully and feature skin-friendly down feathers that are softer, and dry easily.
More Comfort Equals More Freedom
The Black Series HQ travel trailers come with plenty of storage space to keep all your gear and essential items stored neatly so that you don't have to organize every time before you take off. The RVs come equipped with push to open/close cabinetry for more flexibility and space. Moreover, the upgraded off grid trailers also come with a new bathroom design that feature durable double cup holders, shower, faucets, and towel racks. You're never going to have any storage issues. Plus, all Black Series Travel Trailers all come with a gravity flush sanitation toilet.
Streamlined Infotainment
One of the best things about travelling independently in a popup camper is the fact that you can enjoy watching movies and listening to songs. This is especially important if you're travelling with your family and the drive gets a bit boring – and it will, of course – you need some form of entertainment while driving 6-7 hours on a stretch.
You'll be pleased to know that the Black Series off grid trailers come packed with streamlined entertainment features. Thanks the upgraded wireless touch circuitry, you'll enjoy watching your favorite shows, connecting to Netflix and YouTube, and listen to your play lists. And there's more, the new RVs feature a powerful bass system that comes built-in with a 4-channel amplifier, providing quality sound.
Comfortable Maintenance and Driving with Next Level Control Systems
There's no point in going for a long outdoor adventure if you're constantly worrying about your travel trailer maintenance and whatnot. You need something that can give you peace of mind along with functionality and power. The new and improved Black Series RVs come with upgraded control systems that offer seamless accessibility and one-stop control.
With a flexible control system, you'll be able to monitor various essentials of your RV. For example, you can track the total or average electricity consumption of the vehicle, see gas consumption levels, and other important data. The one-stop touch system comes with a smart screen you can integrate with your phone and monitor everything in real-time.
Another fantastic feature of the new HQ travel trailer series is that you'll have the option to use all your electrical appliances independently or use the all-in-one master switch. This means you can control your appliance from a single control panel. The RVs are also built-in with cutting-edge GPS navigation and travelling anywhere is now safer and easier. Plus, you'll also be able to locate your vehicle using your smartphone. The upgraded RVs also come with a state-of-the-art vehicle diagnostic system, which is going to enable you to track and monitor your vehicle's maintenance in real-time, boosting reliability and safety.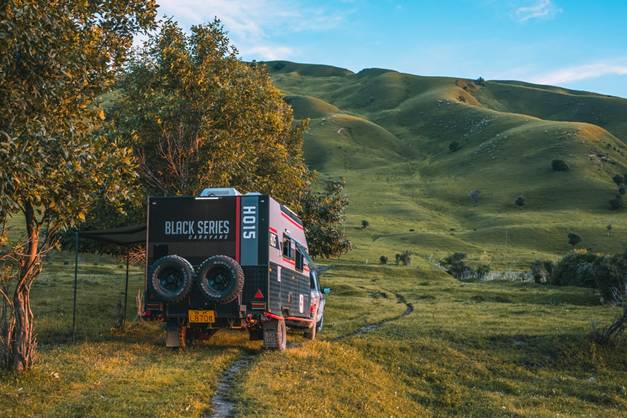 Staying in a Black Series RV is More Affordable
There's no question booking a hotel room can be expensive – especially if you have a big family. And to be honest, what's really the point of going on an outdoor adventure if you can't really experience the flora and fauna of beautiful and expansive national parks? The best way to save money and boost your experience is to invest in a Black Series HQ RV.
Not only does it come with everything that you would need for your travels, the off grid trailers are exquisitely spacious – the external body length of the vehicle is more than 26 feet across and over 10 feet in height. It's safe to say that the RV is spacious and will easily accommodate an average family. Moreover, even if you're going with friends or have invited guests over on the trip, you'll still have adequate living space. Think of the money you'll be able to save!
Impressive Storage Space
One of the best advantages of boondocking in an RV is that you can bring all your stuff with you. Not only would you have enough space for essential gear, you'll have ample space to store other essential items such as food, clothes, shoes, medication, sleep gear, cooking items, etc. The Black Series HQ travel trailers are designed for pure luxury and functionality.
With built-in push to open/close cabinetry, storing and accessing your personal items is going to be even more flexible. You'll also be amazed to know that Black Series RVs also come with refrigeration units so that you don't have to bring a portable cooler. It's basically a really small house on wheels! What's more the upgraded RVs also come with a fully automatic washing machine and a furnace!
Stay Comfortable No Matter What The Weather Is
Boondocking in an off road camper trailer is undoubtedly an amazing experience – and with the right vehicle, you can take off on an adventure whenever you fee like it. Black Series RVs are designed to provide excellent and comfortable functionality even during hot or cold months. If you plan a long road trip to see the countryside this summer, you can do so with a peace of mind. Why? Well, the new HQ series come built-in with a low-profile air conditioner that's fitted on the roof of the vehicle.
The air conditioning system is eco-friendly and is aerodynamically designed to reduce drag when the trailer is moving. The fan provides quick and consistent cooling. So, if the weather gets to hot and humid, you can comfortably sit inside and wait it out. Similarly, the RVs also come fitted with a small furnace that provides adequate heating during cold nights.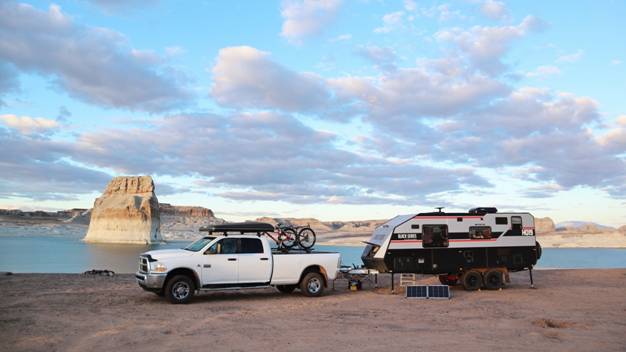 Elegant Interior Design that Guarantees Privacy
Tent camping or camping in a smaller vehicle can never give you as much privacy as an overland trailer. You could never know who's watching when you have to change clothes. This is especially true when you're in camping grounds. Black Series RVs come with upgraded with multi-fold light gray velvet and linen curtains on both sides to boost your privacy. You can comfortably change your clothes inside the RV – or just relax without having to interact with anyone.
Upgraded Power System for the RV
Reliability and performance are key to an excellent boondocking experience. You need an off road trailer that doesn't run out of power and doesn't cause issues mid-travel. The new and improved HQ RV by Black Series comes with a powerful solar and booster chargers, which are going to continuously recharge the battery system of the RV during the day. It doesn't matter where you are and it doesn't matter what time it is, the RV will never run out of power. The upgraded HQ series come with a bigger battery (12 V 800 AH lithium system) that provides more battery capacity and reliability.
Final Thoughts
Going for a camping trip should always be a memorable experience for you and your family. With the Black Series travel trailers, you're getting an all-in-one solution, with reliability, comfort, and streamlined functionality, the new HQ series adds more to the boondocking experience.