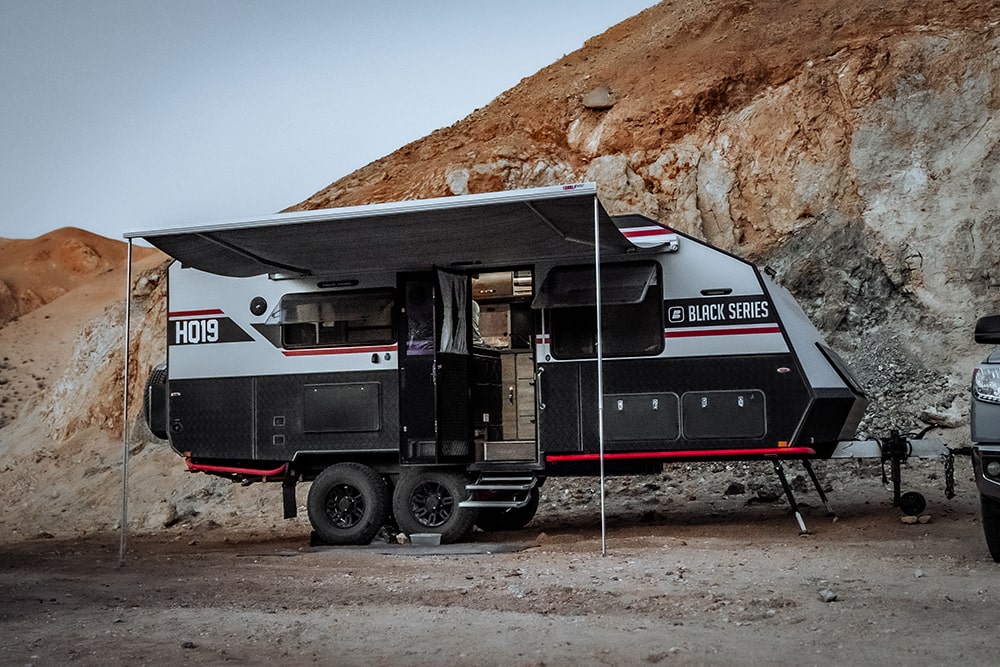 There are, arguably (and we do mean arguably) five distinct regions that make up the USA's lower 48: the Northeast, Southwest, West, Southeast, and Midwest. And there is, perhaps, no better time of year to explore these regions than in the spring, when temps are still bearable but more backcountry roads are open after being closed all winter.

However, with those ideal spring temperatures come those less than ideal crowds. But with 155 National Forests and even more public lands, anyone ready to put some miles on the odometer after hibernating all winter and searching for a bit of off-road solitude is in luck. So, if you love boondocking but need some space to stretch out, check out our list of 5 dispersed camping locations by region—each located in a must-visit National Forest.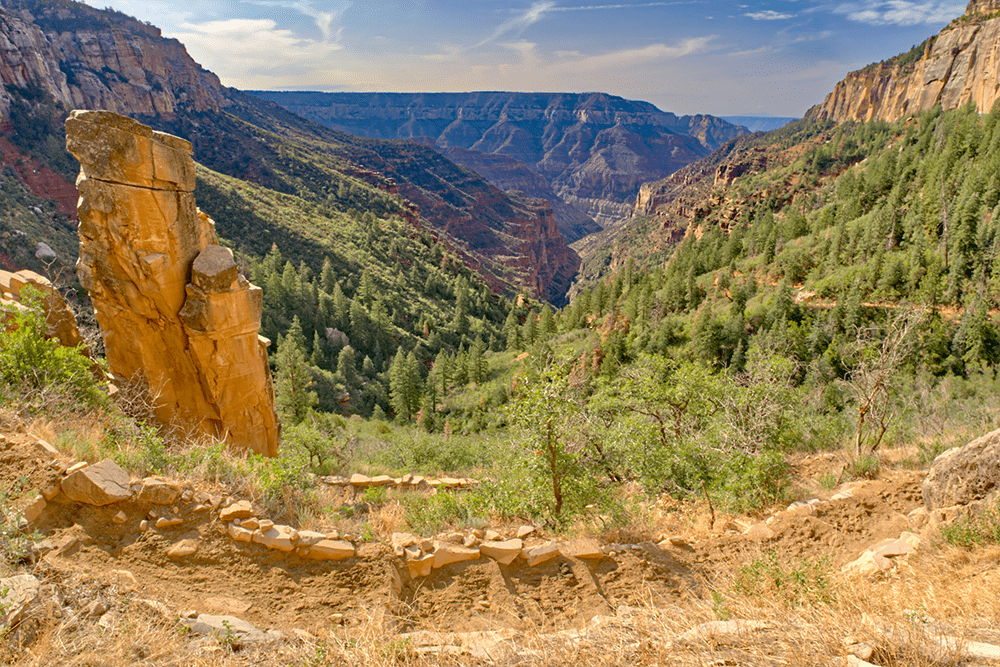 The Southwest - Arizona
Kaibab National Forest - Coconino Rim Trail Rd (FR 310)
The American Southwest is home to some of the most extraordinary National Forests. But the Kaibab National Forest stands out due to its nearby access to Grand Canyon National Park and unbeatable accessibility for those with large rigs. So, suppose you're looking to get into the backcountry while being close to a renowned National Park. In that case, Coconino Rim Road has excellent accessibility to several Grand Canyon lookout points, like Grandview Point and Moran Point.
Access to the dispersed sites can be rough, as the road can be uneven and rugged, but you'll easily make it to the sites scattered along the route with your off-road travel trailer if it has all-terrain tires and an independent suspension system like the ones here. Once you've arrived at your spot, you'll find the perfect mix of shaded areas to park your trailer and sunny spots for charging your solar panels.
You'll see good camping spots almost immediately as you enter the forest, especially the ones nearest Highway 64. But, if you continue down the dirt road, sites have more privacy for those willing to venture further.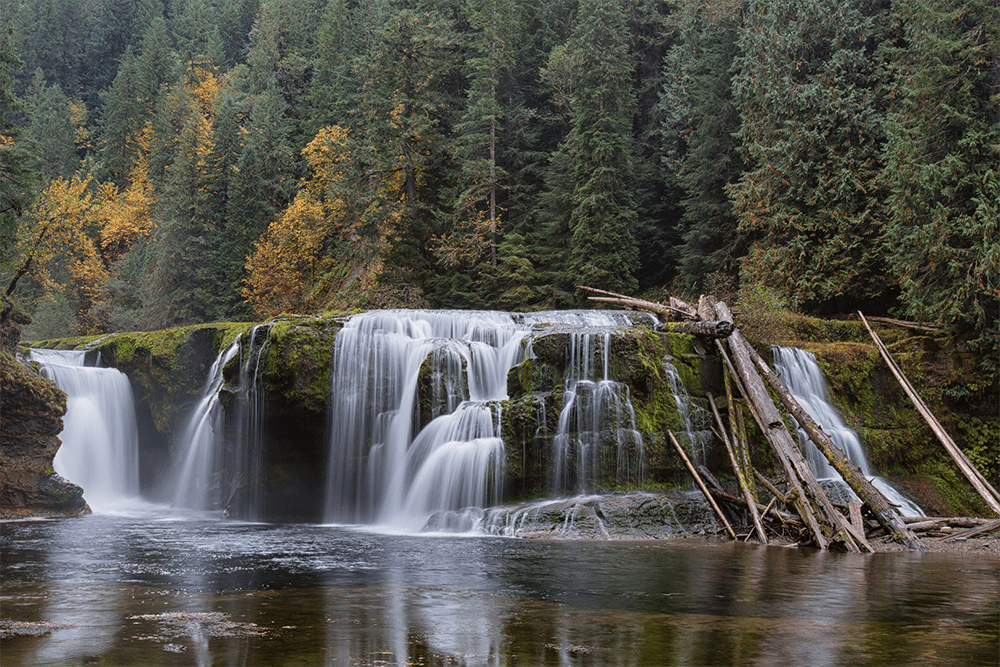 The West - Washington
Gifford Pinchot National Forest - FR-23
This was an impossibly tricky region to narrow down to just one spot, as it encompasses some of the country's most beautiful public lands. In the end, we went with the Gifford Pinchot National Forest because it's home to some of the most scenic sites in the lower 48. This National Forest includes over 1.3 million acres of forest lands, wildlife habitat, The Mount St. Helens National Volcanic Monument, and Mt. Adams. It has something special for everybody, especially those looking for RV campsites for boondocking.
Amongst miles of forest, streams, and heart-stopping views of Mount Adams lies the famous Forest Service Road 23. A dozen lakes within walking distance for boating and fishing and plenty of dispersed camping sites permitted at multiple pull-outs along FS-23, it's notorious amongst outdoor enthusiasts near and far. Though none of these sites are exceptionally private, they provide first-rate access to hiking, climbing, and biking, as well as locations for riding ATVs and dirt bikes.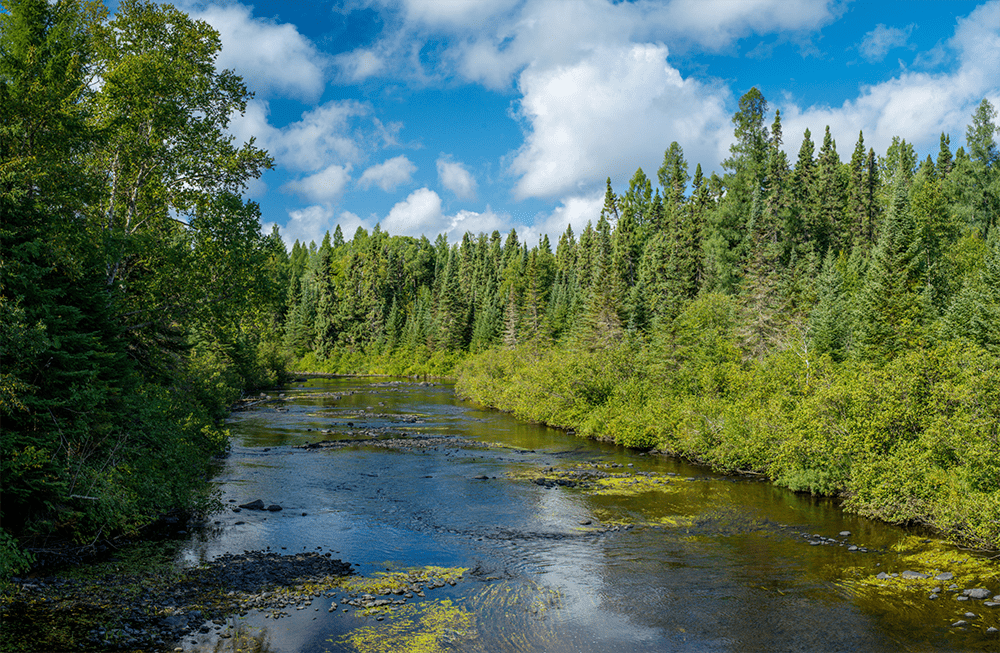 The Midwest - Minnesota
Superior National Forest - FDR off CH 2 (Sawbill Trail)
When we say upper Midwest, we're guessing your mind doesn't immediately travel to a wilderness area with craggy cliffs, rugged shores, and sandy beaches—but maybe it should. A deep green sanctuary dotted with countless lakes, Superior National Forest is a recreational paradise famous for fishing, hiking, and paddling, surrounded by a canopy of pine, fir, and spruce.
Superior National Forest is also home to an incredible variety of wildlife, including gray wolves, moose, lynx, and black bears. And if you have a "birder" (or bird watcher) in your crew, they'll be happy to know that the forest boasts hundreds of different species to learn about. And if you're looking for a basecamp to enjoy everything this area offers, there are plenty of dispersed camping spots, including a few off Sawbill Trail road, to take advantage of.
To get there, take the Sawbill Trail heading north and after crossing the Temperance river, take the first available left onto the NFD dirt road to access the three campsites burrowed in the forest. The route is uneven in spots, but driving with an off-road trailer will be incredibly easy. Though all of the sites are level and suitable for parking your trailer, the one at the end of the road is the better of the three with a picnic table and fire ring. This is the perfect site to utilize your stainless steel slideout stove and prep table for the ultimate backcountry kitchen experience.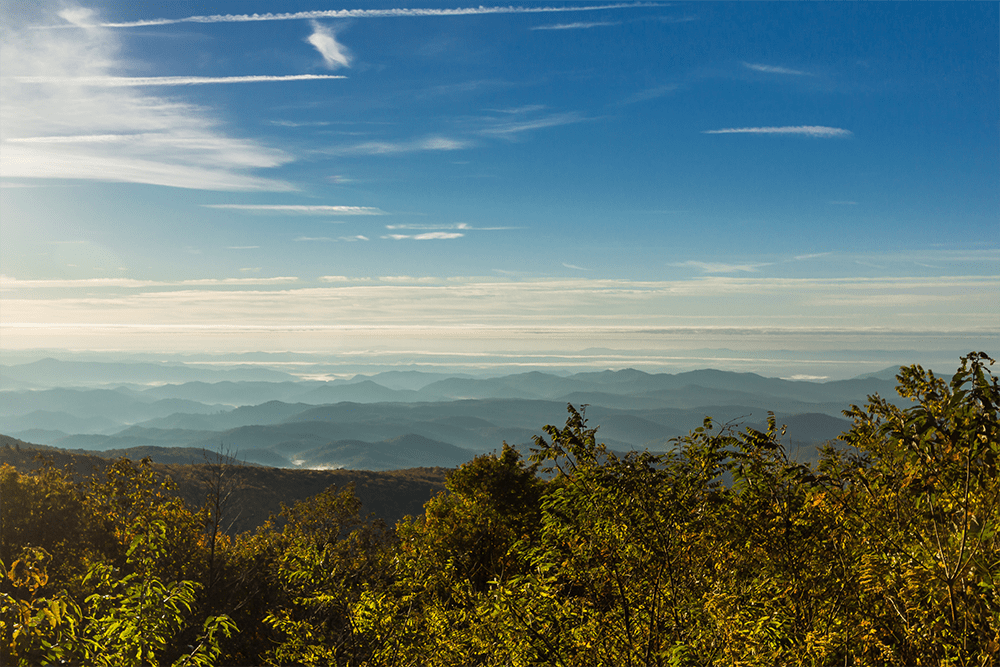 The Southeast - North Carolina
The Pisgah National Forest - FR-1206 (Yellow Gap Road)
The Pisgah National Forest may be famous for its fiery fall foliage displays, but it offers terrific year-round camping opportunities. This hardwood forest with waterfalls, whitewater rivers, and hundreds of miles of trails affirms that a portion of somewhat unspoiled land still rests on the east coast. Those seeking outdoor recreation will find hiking and fishing aplenty, and those on a quest to view wildlife might very well get their chance with the many black bears, wild boar, and deer who call this forest home.
Yellow Gap Road (FS 1206) is your place if you're looking for a spot to call home-away-from-home for a few nights. The sites off of this route are pretty spread out, so you can hardly hear anything but the surrounding sounds of nature.
Yellow Gap Road is located on an extended stretch of fire road through the Pisgah National Forest. It runs between the North Mills River Recreation Area and the Davidson River Recreation Area, two well-known recreation destinations nearby. Consult your Forest Service map or GPS to locate FR-206/Yellow Gap Road. You will pass numerous scenic points, including Looking Glass Falls, Sliding Rock, and the Cradle of Forestry in America, and you will find campsites dispersed throughout the route. Offering privacy and close proximity to outdoor recreation, don't forget to pack your fishing rods and canoes in the large pass-through storage built into your travel trailer.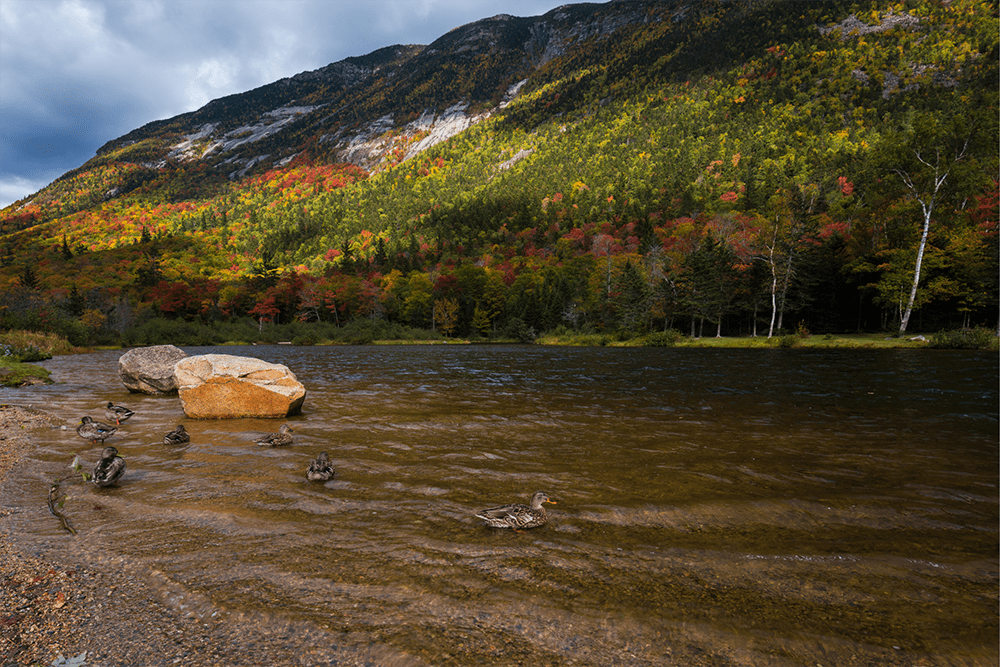 The Northeast - New Hampshire
White Mountain National Forest - Gale River Loop Road off US-3 N
Over more than 800,000 acres, White Mountain National Forest boasts some of the Northeast's most wild and beautiful landscapes. Not to mention, it's home to the crown jewel of the region, the 6,288-foot Mount Washington.
White Mountain National Forest has a wide variety of wildlife, including moose, black bears, and peregrine falcons that call the lavish tree-covered landscape of oak, pine, hemlock, spruce, and fur their home.
Located at the northern edge of White Mountain National Forest, Gale River Loop Road is the perfect place to make a basecamp for enjoying wildlife watching, fishing, hiking, biking, and more. The area has about 15 campsites peppered along the route that can fit RVs and trailers up to about 25 feet in length.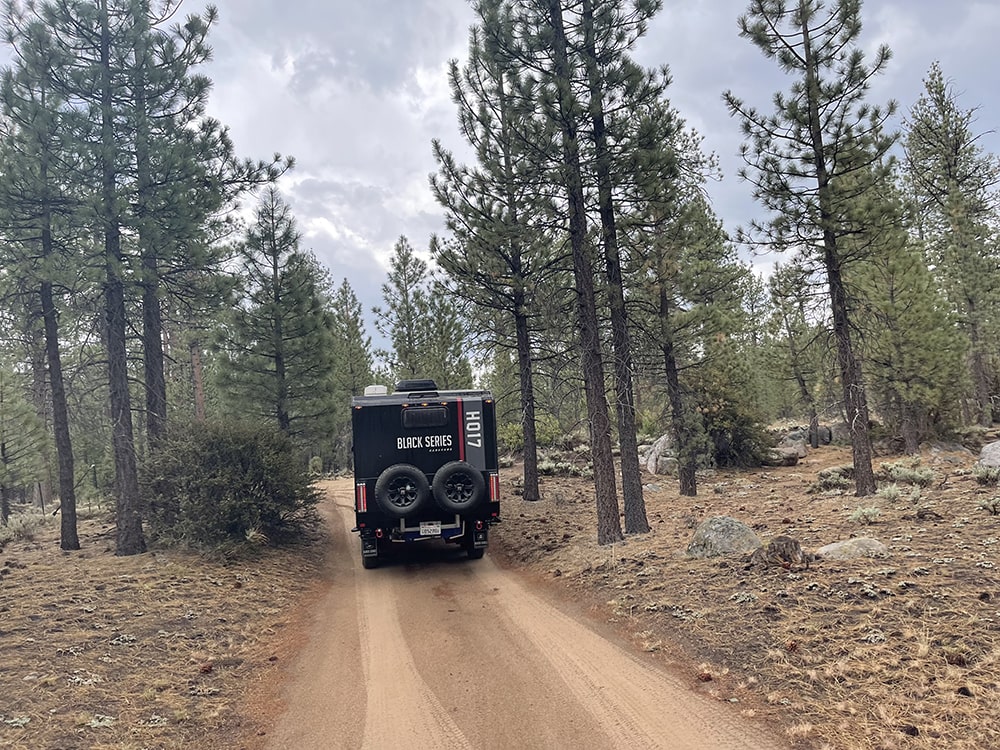 We want to remind you that dispersed camping in these beautiful natural areas has its own set of responsibilities, so please be good stewards of the land and follow Leave No Trace Principles to limit your impact as much as possible. Visit the Forest Service or Bureau of Land Management's website to read up on each area's specific dispersed camping rules and regulations for the public land you plan on visiting.
Do you have a favorite dispersed camping location that didn't make the list? Join the conversation on our Facebook Group or follow us on Instagram.
Want more tips on boondocking? Read Boondocking 101 on our blog.