As an avid outdoor adventurer, my RV fast became my second home. However, it was time to find a new camper trailer since my current one was somewhat small and unable to traverse anything other than a perfectly smooth piece of tarred road. I needed something bigger, better, and able to handle the trips I wanted to go on. But most importantly, my new overland trailer had to feel luxurious.

I set out on a mission testing out various off-grid trailers and found them to be comfortable inside or able to withstand rugged terrain. But never both simultaneously. The stickler I am had me searching even harder for that perfect RV. And then I came across Black Series. These game-changing travel trailers provided the solution I was after - a robust, durable exterior and a sleek interior that easily rivals some of the top hotel suites across the globe.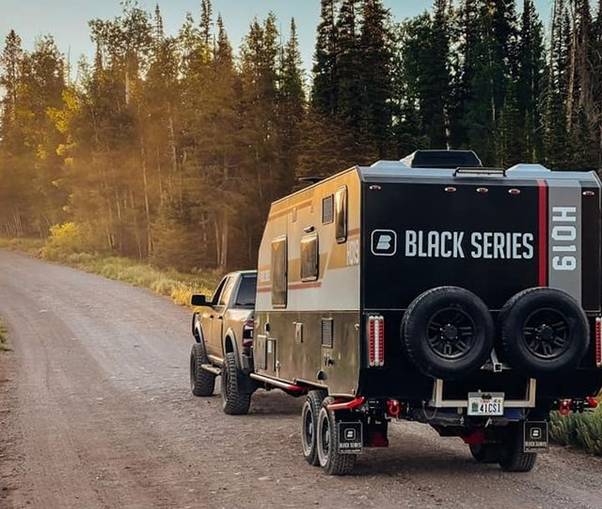 The Black Series HQ19
After carefully researching each of the various models and what they offer, I settled on the Black Series HQ19. The HQ19 is one of the brand's most luxurious trailers and is one of their flagship designs.
When it comes to ticking all the boxes, the HQ19 does just that. Made from premium materials and featuring masterful engineering, this offroad trailer has what it takes to get you to the places you want to go. Best of all, you won't need to sacrifice class, style, or your budget either.
Black Series pulls out all the stops to ensure that the frequent RV user has all the comforts of home and style of a premium hotel suite. Spending time in the wilderness has never been so pleasurable. But what is it about this unique RV that makes it so luxurious? Let's take a look.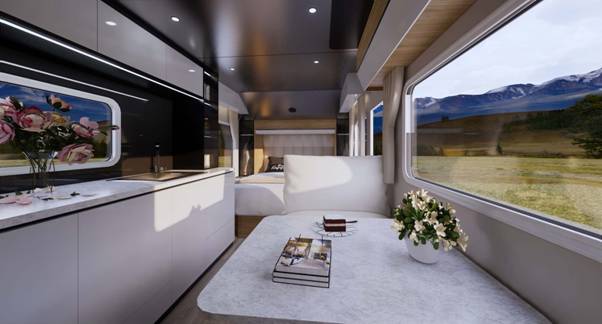 An Interior Design That Prioritizes Space, Light, and Clean Lines
When the designers were developing the look and feel of the interior of the HQ19, there were a few key elements they incorporated. Clean lines, bright, airy spaces, a warm color palette, and exceptional comfort are all tied together with a modern twist.
A Warm Color Palette
Black Series has included an understated yet elegant color palette that is bright and warm. The interior features neutral tones such as warm oatmeal, natural woods and is rounded off with black and white accents.
The honey hues of the cabinetry and the stone-colored padded walls matched elegant wood laminate flooring. The grey velvet linen curtains and cream sofa carry through these natural shades.
In the kitchen, black and white PET cabinets add a modern touch to the look. ROB light strip lighting throughout the cabin adds a warm glow in the evenings when the sun sets, and the dark settles.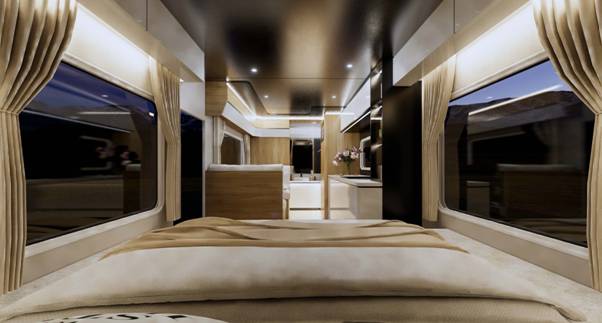 Ergonomically Designed Walling and Cabinetry
If you spend a lot of time traveling in your RV, you will know how frustrating it can be to have cabinets that are ill-placed. Black Series takes this into account and has instead equipped the HQ19 with ergonomically designed cabinets and soft-paneled walling.
The PET cabinets feature rounded edges that prevent you from hurting yourself on them. Soft wall paneling offers the same effect. The sofa and the bed are both designed to offer superior comfort. A raised backrest on the couch and a padded headboard on the bed leave you with a luxurious place to read a book.
Sleek Finishes and Hardware That Offer Clean Lines
To truly achieve that sleek hotel suite look, Black Series offers cabinets that come without handles. Instead, simply press gently on the drawer or cupboard, and it will open or close gently on its own.
Stainless steel hardware that features an elegant hairline finish technology ensures that not only do your bathroom and kitchen finishes look sleek, but they last for many years to come.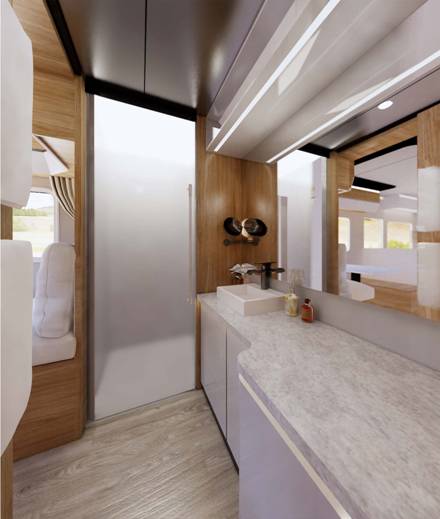 Stylish Features You Never Knew You Needed
Black Series doesn't leave the comfort there. You will find a host of additional features onboard that you never knew you needed, but once you have them, you can't live without them. For example, the electrically controlled double-sided makeup mirror is ideal for applying your makeup or having your daily shave. The HQ19 comes equipped with a full-size fridge, stovetop, oven, microwave, separate toilet and shower, and even a washing machine.
An Exterior Design That Prioritizes a Sleek yet Robust Construction
The tough off road camper trailer that is the HQ19 offers a look and feel unique to the brand. Black Series uses an exterior color scheme of slick black and vivid red, a powerful combination that shows this RV means business. Vibrant red bash bars and a black diamond plate trim protect your travel trailer from rocks, branches, and any other hazards from damaging the body of your RV.
Extended Views and an Outdoor Area
Large kitchen windows provide you with a view of the world that surrounds you, allowing a little of the exterior to flow to the interior and give the impression of an even larger space. A four-meter electrical awning sits on the side of the trailer and extends to create a covered patio.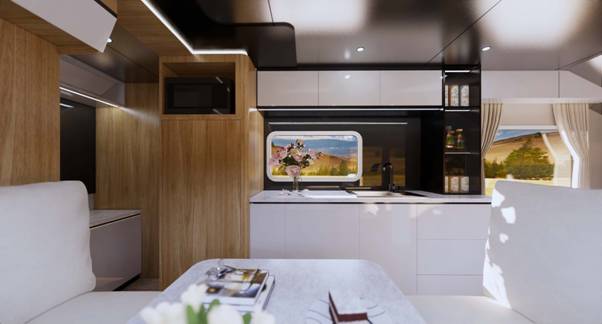 Power Has Never Looked so Good
Powerful solar panels sit atop the camper trailer. They add to the vehicle's overall look and keep the 12V 800AH lithium battery charged at all times. This impressive battery, designed to function in all seasons, provides up to 32 hours of full-power usage, including the use of the lights and electrical appliances.
Because this unique RV uses an inverter, you will never experience the noisy hum of a generator while traveling again.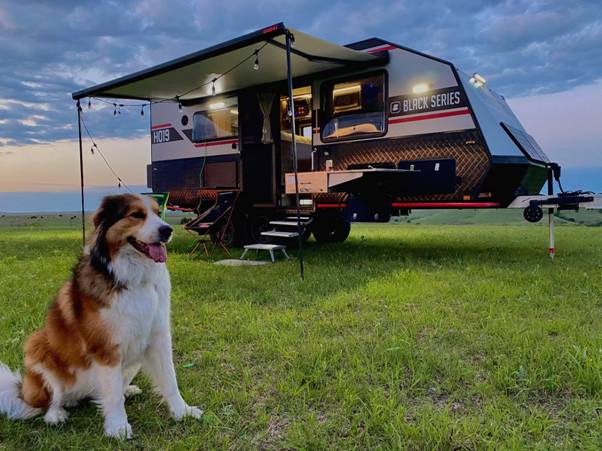 Final Thoughts
If you're on the hunt for a camper trailer for sale that offers a rugged design, a sleek look, and an interior that rivals the world's most luxurious hotel rooms, you may want to examine the Black Series HQ19 a little more closely.
Built for all-terrain use, these off grid trailers make spending time in the wilderness pure bliss. The Black Series HQ19 RV is the ideal solution for any outdoor adventurer with a taste for luxury.