Trailer Camping Recipe: Cast-Iron Campfire Pizza
Pizza in the backcountry? Yes, you heard that right. Fire up your camp kitchen to make this simple and delicious campfire pizza and you're liable to have a new favorite trailer camping recipe for when you're out in the wild. All you need is a cast-iron pan, a few simple ingredients, and a cold beer within arm's reach. It's the ultimate crowd-pleaser, even if the crowd is just you.
Below you'll find the complete cast-iron campfire pizza recipe, three ways to cook at camp, pro tips for storing perishable food (hint: Dometic coolers are highly encouraged, standard with all Black Series trailers), and images that will have your stomach talking to you. Dig in!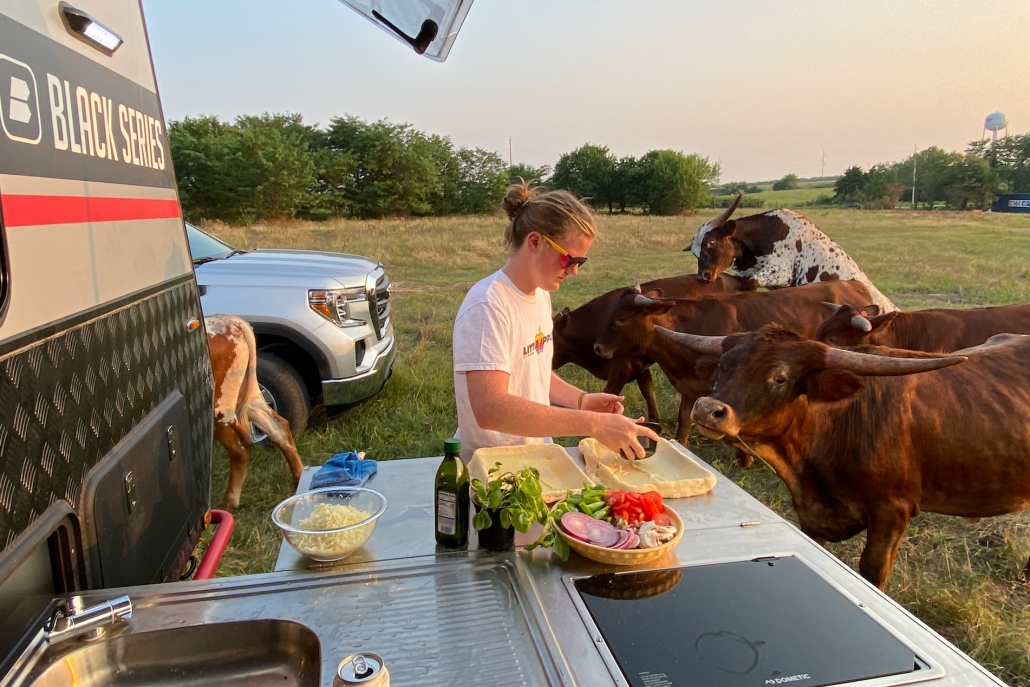 Campfire Pizza: Premium Fuel for Adventurers
This trailer camping recipe is a favorite of ours for refueling after a long day of travel, adventure, or sport. If you're a mountain biker who spent the day shredding single track and taking shin scrapes, load your pie with extra sausage and cheese to give your body the protein and fats it needs to recover. If you're a veggie lover, pile your veggies high and indulge in all that natural fiber. You can even customize your dough. Most grocery stores sell various kinds of ready-to-bake pizza dough including stuffed crust and gluten free. Whichever ingredients you choose, the flavor profile will pair perfectly with crisp air and a sprawling horizon line.
Pizza is the perfect meal for families and group campers, too. It's one of those foods that everyone enjoys, especially in a casual setting like a party or a family get-together. Different dietary preferences in your camp? Make half-and-half pizzas. And when camping with a group, cast-iron pizza is a great way to impress your crew and create a laid back atmosphere around the campfire.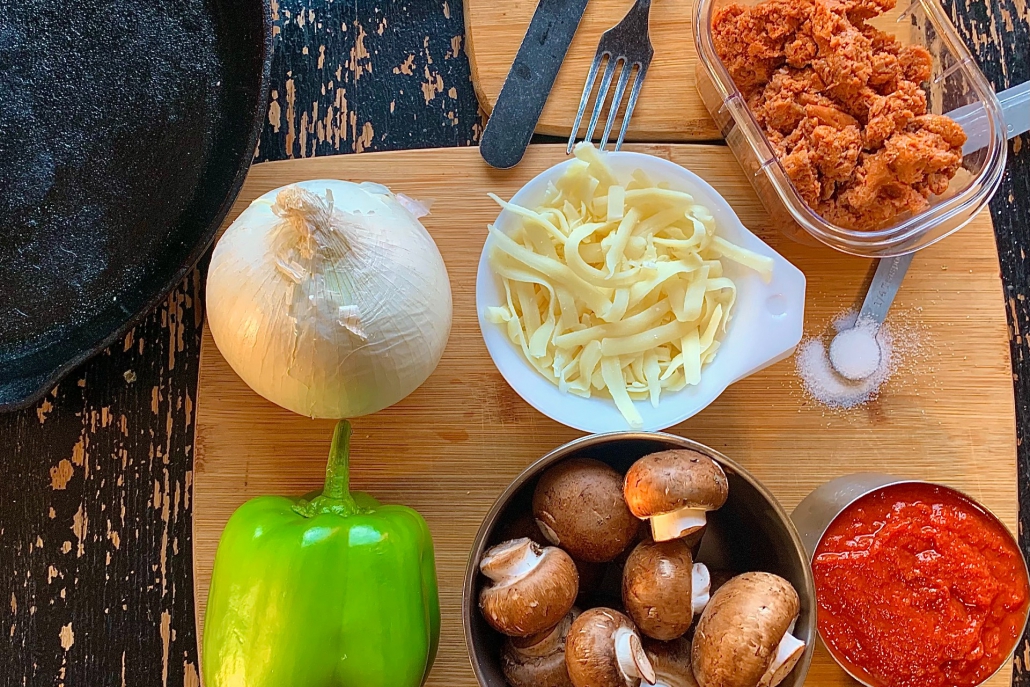 The Equipment You'll Need: Just a Skillet!
When you think of traditional outdoor camp cooking, you probably think of burgers, scrambles, hotdogs, and steak, but pizza is just as easy to make and equally delicious.
The only piece of equipment that's genuinely essential to this camp kitchen set-up is a cast-iron skillet.
What makes this recipe perfect for camp, though, is that it can be prepared anywhere you have a heat source that's cast-iron compatible. Below, we cover three of the main ways to do this.
Trailer Kitchen Setups: 3 Ways to Cook
How you can cook your pizza will depend on your trailer. We'll focus on Black Series trailers here, for obvious reasons. Black Series trailers come with an interior kitchen that features the modern amenities you enjoy at home. For bad weather days (mother nature is known to hand these out from time to time), you can cook this cast iron pizza on the stove or in the oven.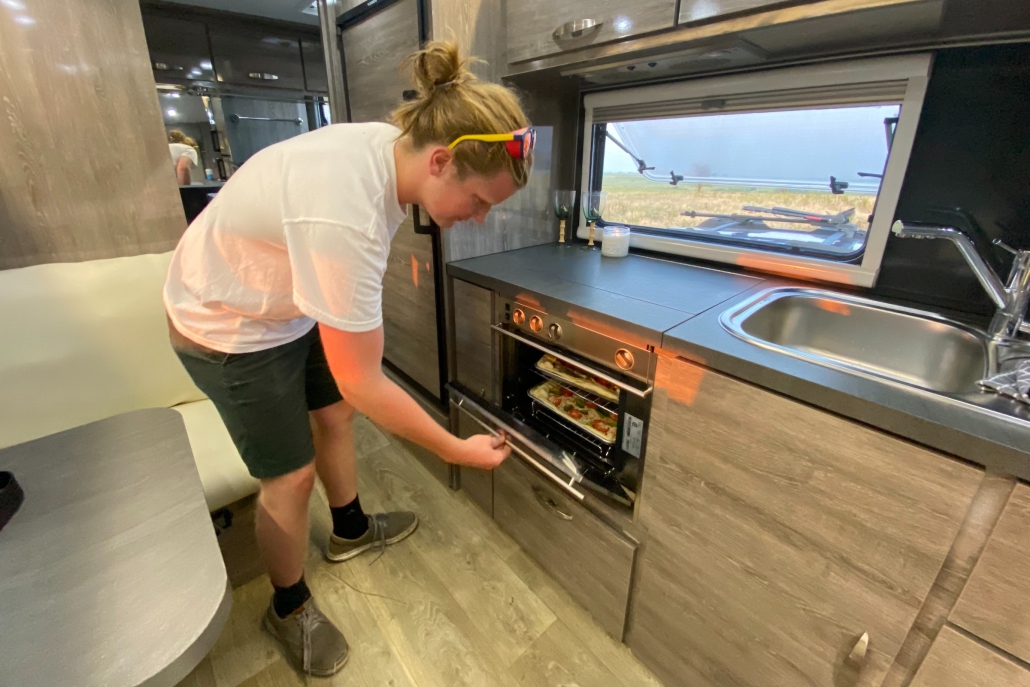 When the weather is nice, that's when our stainless steel, slide-out camp kitchen truly shines. Perfect for those that want to combine fresh air with their fresh ingredients, the slide-out camp kitchen is engineered for the outdoor chef. With a three-burner gas stove, large prep area, and a deep stainless steel sink, prepping and cooking this pizza will be a breeze. If you decide to cook this pizza on the burner, keep the temp low and periodically check under the crust to ensure everything is cooking evenly. Because the prep table is so large, you can cut the ingredients fresh and add them directly to the pizza.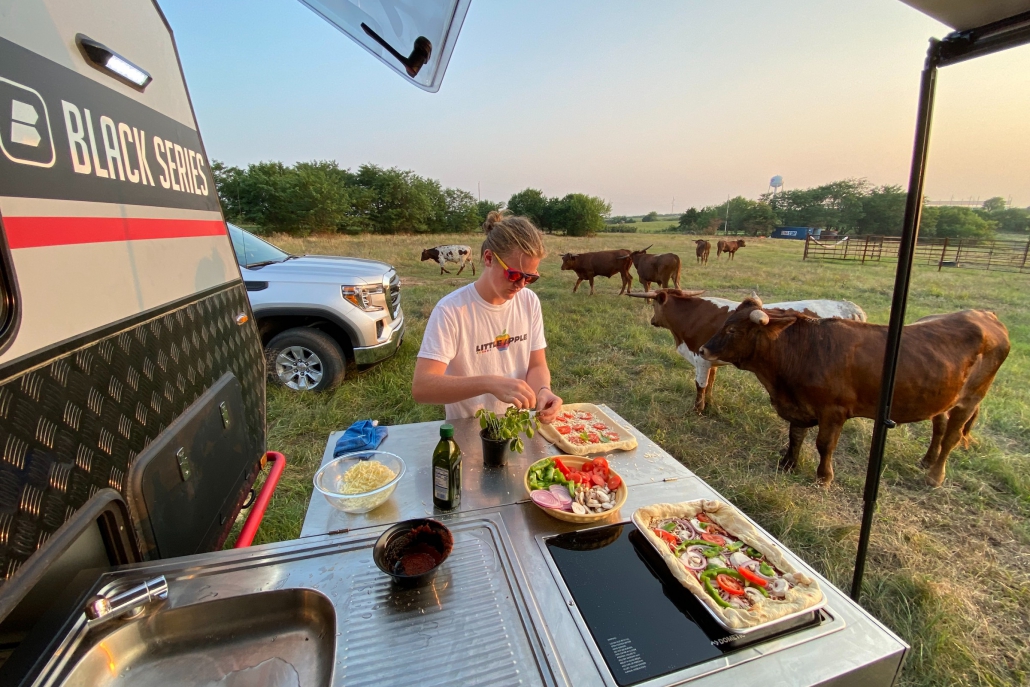 More of a campfire cook? You can still prep everything on the slide-out kitchen, but because you're cooking with cast iron, you can throw this pizza right on the grill or directly into the fire. Just make sure those coals are hot, and the flames are low, so you don't burn your pizza. And please use caution when maneuvering your pan directly over a fire. A cast-iron pan lid comes in handy with this method for ensuring even cooking. No lid? Some tinfoil will work just fine. Bonus points if you cook your pizza Caveman-style: no cast-iron, just a wide, thin rock placed over the coals.
The ultimate camp kitchen setup would be pointless without good ingredients. Every true camp chef knows this. So how do you keep them fresh while getting to your destination?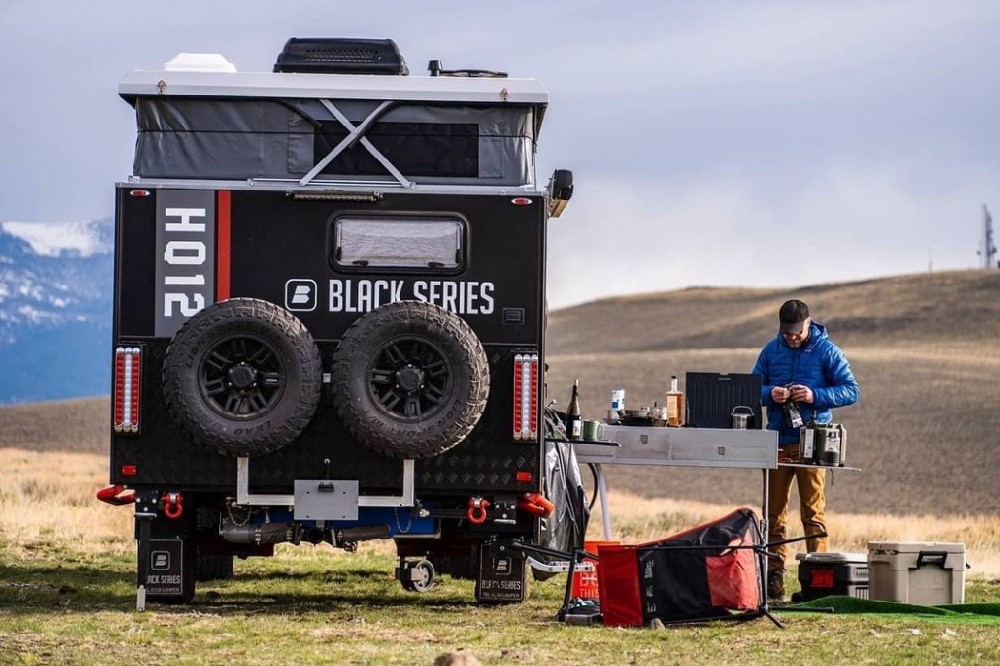 Fresh Ingredients Anywhere: The Dometic Difference
Traditional ice coolers and trailer mini-fridges can keep ingredients fresh, yes. But a traditional cooler can soak your food when the ice melts, leaving it to steep in a bath of meat and produce juice. Yum. Trailer fridges are great features, and when managed right with generator/propane/battery power they can keep food for as long as it would keep at home. Space can be a bugaboo with these fridges, though.
Dometic powered coolers on the other hand, provide world-class freezing and cooling capabilities with ample space and no risk of meat juice. This means you can bring more of the foods you love wherever you go, and keep them fresh for longer. Every Black Series trailer comes with a Dometic powered cooler included. Dometics are built for rugged outdoor use, and they're ideal for storing pizza ingredients like dough, meat, and veggies. And it's not just for storing ingredients. What would a pizza dinner be without ice-cold beer to wash it all down?
Pro Tips: Pizza & Beer Pairings
Fill your Dometic powered cooler with some cold beers because pizza and beer is the mother of all combos.
The rule of thumb is light pizzas, lighter beers, and hearty pizzas, heavier beers.
If you decide to switch up the ingredients for a lighter pizza, such as a Neopolitan, an excellent pairing would be a crisp pilsner. The mild flavor of a pilsner doesn't overpower the complexity of flavors in a lighter pizza. Hard cider is another great option.
If you decide to go with a heavier pizza, like the sausage pizza in the recipe here, wash it down with a stout for a robust flavor pairing. Too much? Try an IPA for something powerful and hoppy, but drinkable and satisfying. As avid trailer travelers, our favorite way to drink beer is to pick up local brews from near where we'll be staying, and taking them to camp. This is a great way to sample the local goods, getting a taste for what the region has to offer.
How to Make Cast-Iron Campfire Pizza
Now, for your feature presentation, the recipe. One of the reasons this pizza is a go-to of ours is because it's the perfect choice for a group with picky eaters; you can customize the toppings however you like. Still, we went with a favorite camp kitchen combination of sausage, onions, mushrooms, and peppers.
Note: We used pre-made dough from the supermarket for this recipe, but if you want to make your own, we recommend prepping it before leaving home and store it in the Dometic powered cooler to make things easier.
Download the PDF of the Recipe Here >>>
Cast-Iron Sausage Pizza
EQUIPMENT NEEDED
CAST IRON, KNIFE, CUTTING BOARD, MEASURING CUPS, AND SPATULA.
INGREDIENTS
12 oz. store-bought pizza dough, room temperature
5 Tbsp. extra-virgin olive oil
6 oz. sweet Italian sausage
3/4 cup pizza sauce
1/2 cup sliced onion
1/2 green bell pepper, thinly sliced
1/2 cup sliced fresh button mushrooms
3/4 cup shredded mozzarella cheese
Salt to taste
PREP
Remove your dough from the Dometic Fridge-Cooler and wait for it to reach room temperature, so it's easier to shape once you get to Step 2.
Slice your onions lengthwise from root to stem, set aside.
Thinly slice the bell pepper into long strips, set aside.
Thinly slice mushrooms, set aside.
STEP 1
Over a hot campfire grill or your Black Series slide-out camper kitchen, heat 2 tbsp of oil in a large cast-iron skillet. Add the sausage and onion and let cook for 3 minutes. After, add mushrooms and green pepper. Allow everything to cook until tender, and there is no pink in the sausage, about 4 minutes; drain any excess liquid and set aside.
STEP 2
Remove the cast iron from the heat. If there are any residual toppings on the bottom of the pan, use a bit of oil to loosen it, and then use a paper towel to wipe it clean. Add 2 more tablespoons of oil to the cast iron. Carefully stretch out your dough by holding it in the air and moving your hands clockwise around the edge, letting gravity help you. Then, lay it in the pan. With your fingers, work the dough into the edges of the cast iron. TAKE CAUTION – IT'S VERY HOT! Try extending it as far as possible to the edge of the pan.
STEP 3
Let the dough cook until it starts to become a slight golden color on the bottom, then carefully flip it over. Once flipped, season it with some salt, then spread the marinara over the entire surface. Top with the cooked sausage, mushrooms, green peppers, sliced onions, and mozzarella. Allow for the cheese to melt entirely. You can cover the pan with a lid or tinfoil to help speed up the process.
STEP 4
Using the spatula, check under the pizza to ensure that it's a nice golden brown before you carefully remove it from the cast iron. Let cool for 5 minutes, then top with red pepper flakes and parmesan before cutting in.
---
If you want to impress your camp buddies, take this trailer camping recipe with you next time you pack up your Black Series trailer and head out to the backcountry. And if you do make some cast-iron campfire pizza, let us know – tag us in your pictures on social media (@blackseries.usa)!
More pro tips for great trailer camping meals are coming, so stay tuned to the blog!
---
Caravans shown in this post: