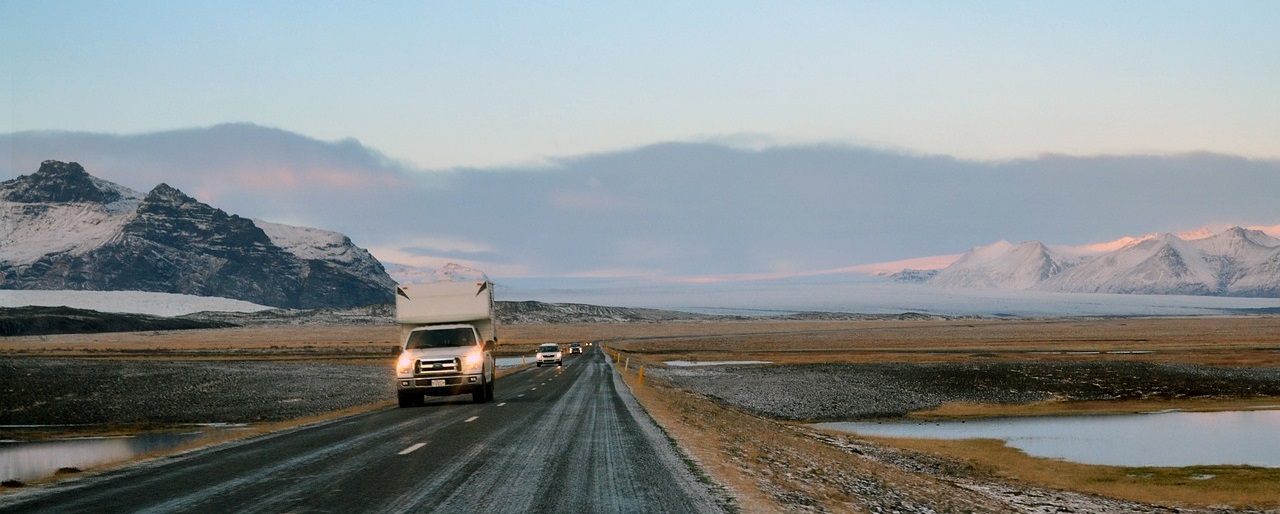 Sping, summer, and autumn are ideal times for living in a travel trailer or RV. With warm temperatures and the sun shining most of the time, life on the road is fine and dandy! But what about full-time RV living or using a camper in the winter months? Can you go winter camping? Is living in a travel trailer during winter okay when it's cold out and the risk of wind and snow increases?
Winter RV living is not for the faint-hearted! But lower temperatures shouldn't keep you from enjoying your camper and views of icy lakes and snow-frosted mountains.
Need some convincing about cold weather camping? This post will show you how with some extra protection and preparation, you can enjoy full-time RV living. Or at least a weekend winter adventure in your camper.
Can You Live in an RV or Travel Trailer Full Time in the Winter?
Summer is the most popular time for RV adventures, but you don't need to wrap up your RV as soon as temperatures start to drop. On the contrary, winter RV living can be an exhilarating experience.
Winter camping allows you to enjoy outdoor recreational experiences, such as snowboarding and skiing. And there's nothing quite like enjoying the view from your RV window with a warm cup of cocoa in your hand. Whether you choose to move around the winter wonderland or try winter camping in one place, with a bit of planning and preparation, you'll find full-time RV living perfectly doable, and more importantly, enjoyable.
What do you Need to Live Full Time in Your Trailer in the Winter?
If you want to experience winter RV living, there are three main challenges to face:
Finding a place to camp

Finding a full hookup site that's open in the winter

Overcoming the problems that accompany extreme weather conditions
You can research online to overcome the first two challenges. And you can quickly overcome the third if you get the right equipment for winter conditions.
Winter RV living means you have to deal with different weather conditions. There might be snow, ice storms, extreme cold, blizzards, and hail. Although these conditions are only prevalent in some regions of the country.
It's best to research the expected weather conditions and average temperatures in your preferred winter location. Then you can prepare ahead of time. Here are some winter RV living tips to help you.
Equipment you will need
Shovel - You'll find a shovel very useful if you get stuck in a snowdrift.

Instant Pot - With an instant pot, you can create some tasty meals for many campers. Of course, an instant pot is essential if you're stuck inside a smaller RV for any length of time.

Space Heaters - Your propane heater will be the primary interior heat source in your RV during the winter. It does an excellent job of heating the inside efficiently. But, sometimes, you might need to boost the heat in your RV. In cold temperatures, a small space heater or small ceramic heater can help you stay warm. There are three different types:

Catalytic space heaters - This type of space heater is very energy-efficient for the winter months. There is no open flame, so it's safe in a camper or RV. A catalytic heater uses a chemical reaction to produce heat, so there is no dangerous carbon monoxide gas.

Small electric heaters -Electric space heaters are very effective for heating small spaces but consume energy from your batteries. But with access to an electric hook-up, you can use one to keep warm at night. Be aware that electric heaters are a fire risk, so follow the safety instructions.

Portable space heaters -A portable heater is handy for an RV, especially if the campsite where you're staying has no electricity. Generally, a portable heater uses gasoline or other fuel to help you stay warm. So you must have adequate ventilation to prevent carbon monoxide poisoning. If you use a portable heater to keep your camper warm in winter weather, keep your air vents open, and invest in a carbon monoxide detector.

Heated Hose - If you have a heated freshwater hose, you won't have to keep disconnecting, draining, and reconnecting your RV water hose every night. Frozen hoses are a hassle! And you can't expect a regular hose to not freeze in sub-zero temperatures. So invest in a heated hose to avoid any frozen hose issues - it's a wise and cost-effective investment for full-time RV living.

RV Skirting Set - If you're staying put for a while, an RV skirting set will protect the underside of your RV from excess wind and cold. It will reduce the impact of cold winter winds blowing around RV pipes and other RV components underneath your trailer.

Generator - Full-time RV living needs a portable electricity generator! Use it as a backup power source for heating when cold weather RVing.

Solar system / Solar panels - With solar panels and plenty of sunlight, you'll be able to use an electric space heater or an electric blanket for warmth when cold weather RVing. You won't have to rely only on your propane heating.

RV Plumbing Heat Tape - The sewer and freshwater hoses should be wrapped with heat tape or foam pipe insulation to prevent them from freezing when the temperature drops below freezing. Get some from your local hardware store. Avoid using regular duct tape - it doesn't work! Also, apply heat tape around valves and connections to stop them from freezing during your winter RV trips.

Floor Insulation - If you want to add extra protection for a winter RV trip, consider using foam insulation boards. Foam board flooring is a popular choice for many RVers. Installing foam boards helps create a barrier in the interior against damp ingress and provides extra insulation, an absolute must in a larger RV! More insulation is a good thing - you'll feel the difference! An easy DIY hack is to use thick rugs or heavy rugs for temporary insulation - nicer on bare feet, too!

Tank Heaters - If your RV has heated holding tanks or dump tanks, they're less likely to freeze. Not all RVs have heated holding tanks or tank heaters, but it's worth paying a little extra when you purchase your vehicle for winter living because it'll save you money. Having warm water on tap makes winter living so much more comfortable.

Waterproof Matches and Lighters - It's good to have these just in case of an emergency. When you're winter living, you might need to light a fire, for example, to keep yourself warm should your campervan break down.

Ventilation Covers - Much warmth can escape from your vents, so make sure you plug and insulate them with insulating material. You need to remove the covers easily, so buy factory-made vent plugs or cut rigid insulation to size and then fix with duct tape.

Traction Mats - If you find yourself trying to maneuver in slippery conditions, traction mats will provide you with extra traction.

Pressure Cooker - Reduce cooking times by using a pressure cooker. Not only is cooking quicker, but you can also create some fantastic one-pot meals, reduce fuel consumption, and produce much less water vapor.

Heat Cable Roll - A heat cable roll is helpful because you can wrap it around your campervan's refrigerator condenser. This condenser is at the back of your travel trailer, and the heater cable will stop it from freezing and ultimately blowing. You can also put heat cable roll around your water pump as protection against extreme cold weather.

Additional Propane - It's always tricky to gauge propane usage, and often find your propane tanks running out at the most inopportune times. To cover such occasions, always have extra propane tanks readily available. As soon as one runs out, swap it out for a full tank and refill the empty one as quickly as possible to maintain reserve propane levels.

Ice Scraper - You might decide you want to head out one morning and try a new location. Make sure you've got an ice scraper for cleaning the windows and windscreen.

Tire Chains - Don't find yourself stuck waiting for the snow to thaw. With tire chains for your campervan, you'll be able to get out on the road regardless of the driving conditions.

RV Antifreeze - If your campervan toilet has black tanks, don't fill them too much. Pour RV antifreeze into them to stop the water from freezing in cold temperatures. Also, add RV antifreeze to the gray water tanks to prevent the wastewater from freezing and bursting any pipes.

Safety Devices - For the small extra cost involved, ensure you have carbon monoxide detectors, smoke, and fire alarms installed.
Other Essential Things to Pack
1. Thermal sleeping bag
Most people pack one when sleeping under the stars or inside a tent. But, you'll also appreciate the comfort, warmth, and luxury of a thermal sleeping bag for winter RV living.
Choose one with a lower temperature rating than the winter temperatures you're expecting to encounter. It's better to be too warm than too cold. You can open the thermal sleeping bag for ventilation and allow cool air to circulate. Of course, there's always the option of taking off a layer of clothing if the temperature inside is too hot.
Also, look for one with a hood. This will trap heat in your sleeping bag and around your head. Keeping your head covered prevents precious heat from escaping when temperatures dip below freezing.
2. Warm clothes and winter jackets
Full-time camping means you need to be prepared. Make sure you have warm clothes. Ideally, you'll need warm jackets, pants, shirts, hats, and socks.
Plan to layer clothes - you can always take layers off if you're feeling warm. Or put on an extra layer if you feel cold. Layering clothes can make a huge difference in how comfy you feel. Consider getting the following:
Breathable base layers that wick away moisture and provide warmth.

Mid-layers made of insulating and breathable materials such as wool and fleece.

Warm hats and socks: a lot of heat can escape from your unprotected head and feet.
3. Winter boots and heavy shoes
Winter boots and heavy shoes are just as important as warm clothing and winter jackets. You can lose much of your body heat through your feet. Warm boots and shoes will also offer better protection for your feet from snow, ice, and freezing water.
4. Waterproof clothing
You'll go a bit stir crazy if you don't get out of your campervan now and then. You won't be forced to stay inside if you have waterproof clothing.
5. Blankets
To help you keep warm during the long winter nights, you should upgrade your bedding with extra blankets. Alternatively, consider an electric blanket to provide extra warmth at night.
6. Several pairs of gloves
You'll be glad of a warm pair of gloves when you need to clear any snow off your RV so you can travel.
7. Extra drinking water and food to make sure you don't run out
You should always have a roadside emergency kit that includes extra bottled water and food. Ideally, enough supplies to keep you fed and watered for at least 24 hours.
8 . Don't forget very hot cocoa and tea to keep you warm on cold winter nights
The temperature can drop significantly as soon as the sun goes down in the winter months. Keep a good supply of warm, comforting drinks such as tea and cocoa. These will help keep you warm inside your living space when it's freezing outside.
9. Headlights or lanterns
Daylight hours are significantly shorter when you live in your RV in the winter. With a headlight or lantern, you can find your way around at night.
Basic Tips for Living in Your Camper in the Winter
Thinking about traveling in your camper in the winter? You'll encounter lots of things you wouldn't when camping during the summer, spring, or autumn. Keeping your RV stationary during a hard freeze is different from living in it. Let's look at some other tips and things you'll need to consider:
Put a Skirt on Your RV: An RV skirt is something you put around the base of your RV. Installing RV skirting serves several purposes and is one of the best tips for keeping the snow out, raising the temperature, and protecting the bottom of your RV from cold winds. The skirt cover can be foam or some other durable material. You might consider using a heater or two under the skirting if necessary. But make sure the heater is suitable to use outdoors, and there is no risk of any electrical shorting.

Keep Propane Tanks Full: If you suddenly find your propane tanks running out when the sun has gone down, your RV heaters have no power. Not ideal when the temperature outside is below freezing. It's best to keep your propane tanks full, or at the very least have additional propane in reserve.

Protect Your Pipes and Tanks: There's a risk of your water pipes, water pump, and tanks freezing when the temperature drops, so make sure you protect water system pipes from freezing. Heat tape is one of the most effective ways of preventing frozen pipes. It will ensure a constant water supply and avoid any need to call a certified RV repair technician to fix an emergency.

Protect the Exterior of Your Trailer and Remove Snow Frequently: A buildup of ice and snow can be bad for your RV when winter RV camping. If you don't remove the snow, it can turn to ice. When it melts, it can open up the seams in the RV roof. And you could find the water coming through the roof into your RV, causing structural and cosmetic damage.

Don't Connect to Outside Water Sources, Use the Inner Fresh Water Tank Instead: Staying connected to outside water sources can be very risky when winter RV camping. It's much better to fill your water tanks using a heated hose and then pack the hose away. A water heater will also be a worthwhile investment. A water heater will keep everything ice-free.

Protect Your Engine: You might not be planning to drive your RV or motorhome around much during the winter, but don't overlook protecting your RV's engine. It needs additional protection against extreme winter temperatures when winter RV camping. Check your RV batteries are fully charged, connected securely, and look for any signs of corrosion. If batteries are partially charged, they're likely to die quicker in freezing temperatures. Make sure the engine antifreeze is at least 50% concentration. Antifreeze is critical for a winter RV trip and RV living. If you're camping in cold weather, buy an engine block heater to warm up the engine before starting it. If the temperature is below freezing, run the heater for 4-5 hours before firing up the engine.

Don't Leave the Gray and Black Tanks Open: During an average campervan trip, you'd leave your gray tank open. It's not the thing to do when living full-time in an RV or motorhome. During a winter RV camping trip, drain your gray tank regularly. Other things to avoid are using propane cookers and heaters too much, cooking inside your RV or motorhome, showering, and hanging wet laundry inside. Keep the interior clean and dry, and use a dehumidifier.

Never Allow Your Black Tank to Freeze: If your black tank freezes, there is a risk of damage. This could lead to an expensive clean-up and repair when the weather warms up, and you find dirty water leaking everywhere.

Prevent the Formation of Ice on Your Sewer Hose: Ice can also lead to sewer hose damage and require a clean-up and repair.

Protect against Moisture and Mold: Excess moisture and mold are risky for your health. There is a greater risk of moisture and mold if you allow condensation to develop. Be aware that cooking will add moisture to the interior, so good ventilation is essential to reduce the amount of condensation in cold weather. Roof vents work effectively for the winter season without draining power from your RV batteries. Alternatively, leave the doors open while cooking to reduce the humidity level.

Don't Forget to Winterize Your Trailer: If you're not living in it 24/7, winterize it to protect against any freezing temperatures during cold nights. The most important part of winterizing your trailer is protecting the internal plumbing systems and RV piping, which are the most vulnerable to damage.

Make Sure that No Condensation Forms in your Trailer: Condensation can be a killer in an RV or motorhome. It's not very nice to wake up to walls and windows running with water. It's also a health hazard and can lead to rot and mold if condensation remains unchecked. Excellent ventilation is the best prevention. Install furnace vents and maybe an extra roof vent if your budget allows. Minimize activities that create a lot of water vapor, such as showering, cooking, and certain forms of heating.

Don't Allow the Stabilizing Jacks to Freeze: When parking at an RV park in icy or snowy conditions during cold months, stabilizing jacks can get stuck to the cold RV floor. You can stop this from happening if you place wooden blocks underneath the jacks.

Make Sure all Batteries are Working: You need lots more power in cold weather. So make sure all batteries are working effectively, and if you have space, install an extra one so you always have a spare. Keeping your batteries warm is critical because there's always the risk of them freezing. A fully charged battery is less likely to freeze in cold weather. Keep batteries warm by storing them inside your RV.
Follow the tips above to stay out of trouble this winter!
How to Keep a Trailer or RV Warm in Winter?
Keeping your RV warm in the winter is essential for your comfort and your vehicle's integrity.
1. Reduce Heat Loss
There are lots of practical ways to reduce heat loss and trap heat inside. One of the best is to treat the RV vents with insulating material. Something like foam board will help keep the inside of your cabin warm. There are also ready-made RV vent covers you can purchase. Also known as draft shields, these prevent cold air from entering and warm air from exiting.
Using solar curtains or insulated curtains, re-caulking windows, or installing winter windows using acrylic mounting tape, and replacing weather stripping around the doors will also reduce heat loss. Also, consider buying an insulated AC cover.
2. Insulate Your Walls
RV insulation is essential to keep your RV cool in the summer and warm in the cold weather. You'll improve the comfort inside if you insulate the walls, ceiling, and floor. A well-insulated RV is essential for winter living in comfort!
3. Insulate RV Windows
You can insulate your RV windows using reflective foil and window film. These materials can be cut to the exact size and reflect heat into your camper during cold winter months. Bubble wrap or foam insulation board works just as well.
Another option is to use thick fabric drapes or heavy thermal curtains during sub-zero temperatures. The benefit of using curtains is that you can open the windows when the sun comes out and allow air circulation.
Don't ignore doors when it comes to insulation. Examine the door seals and caulking, replace any areas that are weak or missing and replace weather stripping around exterior doors. This will prevent moisture or cold air from coming in.
4. Use Your Heater
There's nothing quite like returning to a warm and cozy camper after a long day outdoors. You can use the RV furnace to keep it warm, and it will also keep water hoses and pipes warm and prevent freezing.
Unfortunately, an RV furnace can be costly to run and quite noisy, which can be a problem at night. Before winter sets in, check and clean the furnace air return. You can do this by using compressed air and a soft brush to remove debris.
If the temperatures outside drop really low, you may need extra heaters for a comfortable trip. Electric heaters, portable heaters, or catalytic heaters are the best.
Things to Avoid at all Costs When Living in an RV in the Winter
Even if you follow all advice, there are still some things you should avoid at all costs:
Traveling when it's snowing. Wait a day or two until it has stopped.

Forgetting to pack gloves. Trying to clear snow off your RV without any gloves is painful.

Traveling with tires that have insufficient tread.

Not protecting your gray or internal freshwater tank.

Forgetting to book your park up in advance, as there's nothing more frustrating than turning up at a campsite and finding it all shut up for the winter.

Traveling without reserve propane.

Forgetting to put a small amount of antifreeze into your black tank, as it will keep your toilet functioning.

Forgetting to use a heated water hose.

Using your stabilizing jacks without a block of wood under them.
What to Look for When Buying an RV for Winter Travel
Not everyone who buys a motorhome or RV will be planning to take it for winter travels. However, if you plan to travel during the winter months, there are features you need to consider when looking at suitable travel trailers. Here are some suggestions:
Sealed windows with adequate window insulation on the inside and outside

Storage tanks should be fitted with heating materials to prevent freezing

Concealed storage tanks to minimize exposure

Tanks should be equipped with electronic heat pads or heated from the trailer's furnace

Grey tank and blackwater tank dumping valves should be insulated

Look for a heated water hose and insulated plumbing system

Skirting will prevent drafts and provide insulation for the living area
If you prefer campers over RVs Black Series manufactures one of the most robust and durable overland travel trailers. Their build quality and premium features make them one of the best trailers to keep you warm during the cold winter days and nights.
Conclusion
If you decide to use your RV all year round, you'll experience some unique and beautiful sights along the way. If you follow our tips, you should be able to enjoy RV or travel trailer living and a safe winter adventure, staying warm and dry rather than being all wet and chilled to the bone.
FAQs
1. How cold is too cold for an RV or travel trailer?
Temperatures between -19ºF and -25ºF (-28 Celsius to -31 Celsius) are just a bit too cold for RV living.
2. Can you use the toilet in the RV in the winter?
Yes, it is possible to use the toilet when living in a camper in the winter. One option is to buy a 4-season RV toilet, or you can modify an existing one to make it winter usable. You can use individual tank heaters to ensure the liquids in the pipes or tanks don't freeze. You can also replace the water in your black water reservoir with RV antifreeze.
3. At what temperature will the pipes freeze in the camper?
Generally, the temperature has to fall below freezing (32F) for approximately 24 hours for camper pipes to freeze.