If you like the idea of spending time on the road exploring the world, one option is to choose a drivable motorhome. One downside is that they tend to be very expensive and not very versatile.
But, on the other hand, if you can afford it, there's nothing quite like being on the road with all the comforts of home.
However, if your budget is limited and you want a more versatile option, a travel trailer or non-motorized recreational vehicle might be a better option.
What is a travel trailer?
A travel trailer is the least expensive way to enjoy a recreational vehicle or RV lifestyle. Travel trailers are known by various names, such as fifth-wheel trailers, bumper pull campers, towable campers, truck campers, or camper trailers, but there is one thing they all have in common. You need a tow vehicle or pickup trick to use them.
Travel trailers outsell all other forms of recreational vehicles. The tow vehicle has an attachment point at the rear or under the bumper that is used for towing the travel trailer.
What are travel trailers used for?
Travel trailers are very popular because you can park them up at a campsite, unhitch the tow vehicle and then explore the area while your accommodation stays where you parked it. There is no need for a second mode of transport.
Are travel trailers suitable for 4-season use?
If you want to use your travel trailer all year round, it is possible. However, there are certain features you need to look for if you want your travel trailer to be truly 4-season. For example, weather features to look for include:
Tank heaters on holding tanks

An enclosed underbelly

Insulated floors, walls, and ceilings

Efficient air conditioner and furnace

Windows that are double-paned

Yearly winterization of your camper trailer is also necessary so you should take it as consideration.
What are the different types of travel trailers?
Which type of travel trailer is right for you depends on several things. Your tow vehicle, family size, where you prefer to camp, and what features you want are all important factors to bear in mind.
When it comes to choosing a travel trailer, you've got a wide selection of options. Travel trailers roughly fall into the following categories.
Basic travel trailers
The basic travel trailer varies widely in terms of size, design, and versatility. They can be made using various materials and tend to include the most basic features. An average model will require a mid-sized SUV or larger sedan as the tow vehicle.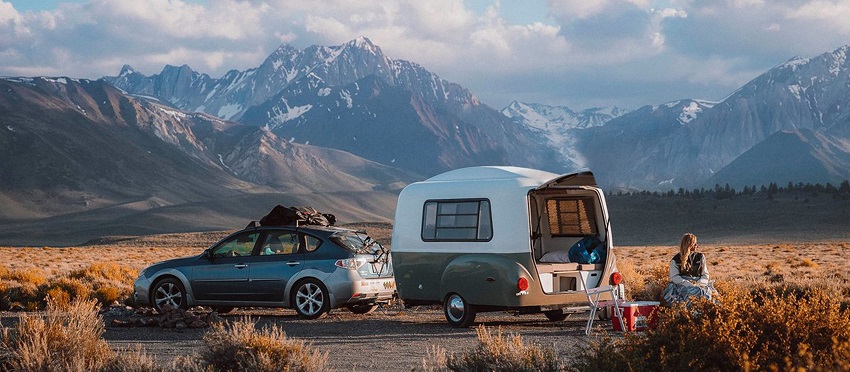 Features
Hard-sided

Fully enclosed living space

Can be set up in no time

Available in various designs and sizes

Best for small families who don't mind doing without all the luxuries of home
Pop up trailers
A pop-up camper, or folding trailer, as it is also known, is a trailer that folds down or collapses to little more than a height of four feet. The sides are usually made from a soft material. This type of trailer is very easy to tow because it's small and lightweight. All you need is a medium-sized sedan.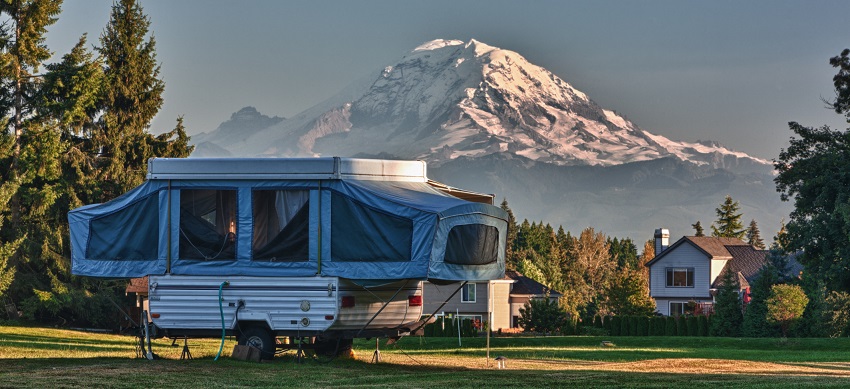 Features
Cost little more than a few thousand dollars

Lightweight and agile to pull

Economical vehicle to tow thanks to its aerodynamic profile

Models with hard sides are available, and these are more appropriate for extreme weather camping

Best suited for camping in the spring, summer, and autumn
Toy haulers
A toy hauler is also called a sport-utility trailer and is best known for its versatility. It's very similar to traditional travel trailers but has a ramp you can fold down. The ramp provides access to an area where you can store your outdoor "toys," for example, motorcycles, ATVs, bicycles, etc.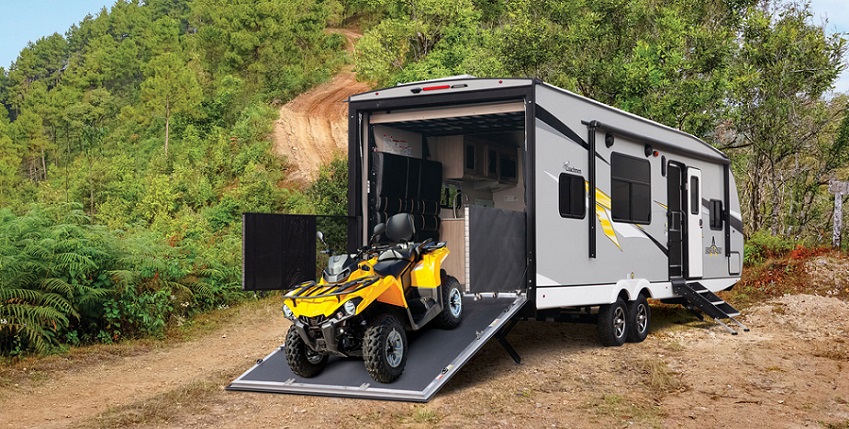 Features
Lots of practical storage space

The garage area can double up as a porch

Kitchenette

Fold-down beds and shower area

Best suited for adventure types
Fifth-wheel trailers
This type of camping trailer really needs a pickup truck as the tow vehicle. The front part of the trailer extends over the bed of the pickup truck and makes good use of the trailer's space. As a result, they tend to be heavier and larger than other travel trailers.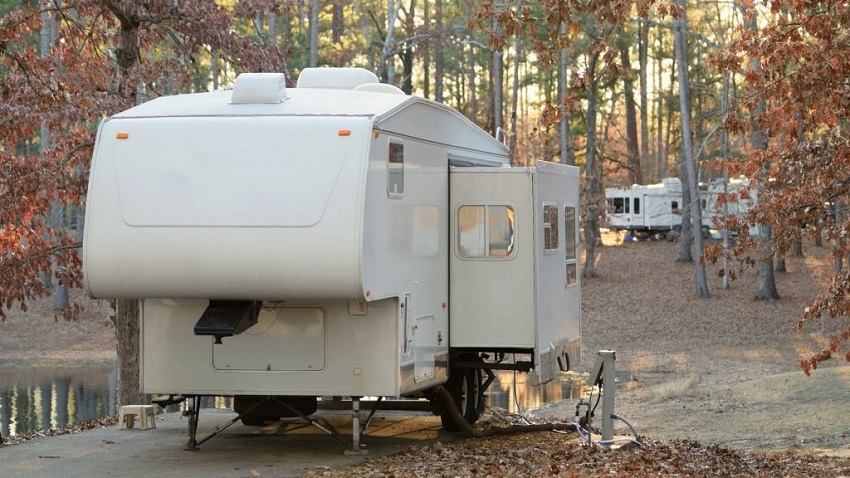 Features
Spacious floor plan

Additional storage space and closet space than other travel trailers

Stable towing experience

Room for more luxurious features

Best for large families
Teardrop trailers
A teardrop trailer is not much more than a bed surrounded by walls. However, some models have a fully equipped kitchen, bathroom, and separate sleeping and seating areas.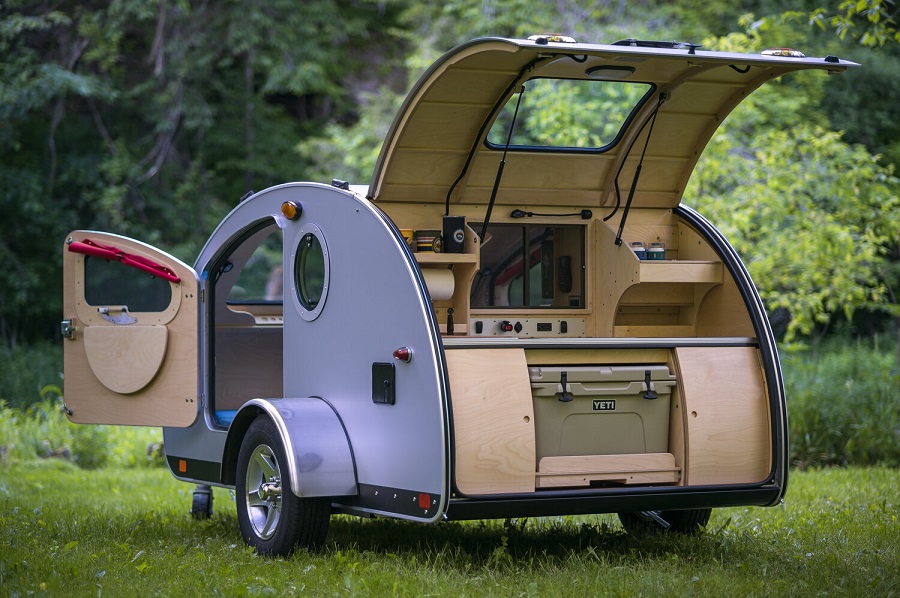 Features
Available in a range of sizes according to your needs

You can use almost any vehicle to tow a teardrop trailer

Can sleep up to four people

You can store a teardrop trailer in a garage

Best for couples who don't mind spending most of the time outdoors
Hybrid & Expandable Trailers
A hybrid trailer is a traditional travel trailer with added pop-outs at the front or back and sometimes on the sides. You open the pop-outs manually, and they have walls made using mesh or fabric.
Features
Additional living or sleeping space

Can sleep up to six people

Comfortable living space and amenities

Models with bunk beds are available

Best for families with kids
Off-Road Travel Trailers
Off-road travel trailers are built for the outdoor adventurer. Features include spacious living and sleeping areas and kitchen appliances. If you like getting off the beaten track, this trailer is for you. It's got an independent suspension for a smoother ride, an excellent ground clearance that can cope with rough terrain.

Features
Fully customizable according to your needs

Luxury features include a complete kitchen, hot shower, comfortable sleeping area, solar panel

Sound insulation on the walls and roof

Easy to maneuver

Est for weekend camping adventurers
Common features of travel trailers
Travels trailers come in all shapes and sizes. The list of features can be endless, depending on your budget. However, there are some standard features you'll find in most travel trailers.
Sleeping area: How many beds and their style depends on your needs.

Seating area: How big the seating area depends on how many people will be traveling in the trailer

Kitchen area: Most travel trailers have some kind of kitchen area that often includes a cooking appliance, fridge, and sink.

Storage space: Again, this is something that varies according to the type of travel trailer. Some trailers have minimal storage space, whereas a hybrid trailer has a garage space.

Bathroom: The smallest trailers might not have a bathroom, but most have something, even if it's only a wet bath. Larger trailers will have a stand-up shower or small bathtub, sink, and toilet.
What are the benefits of travel trailers?
A travel trailer can be a good investment for several reasons:
A travel trailer is more affordable than a motorhome. A travel trailer is much less expensive than an RV or motorhome. You can save between 15% and 30%.

You'll find travel trailers in a range of sizes and shapes. You should have no problems finding a travel trailer that suits your lifestyle and current vehicle, whether you choose a basic option, such as a pop-up trailer that works with a standard sedan. Alternatively, you might choose a large fifth-wheel option if you've got a large tow vehicle.

You can be more flexible with your travel arrangements. Your tow vehicle is the primary component of your travel arrangements. If you want to explore the local area, you simply unhitch the trailer and head out in your car, SUV, or tow truck. Large RVs can be very awkward and cumbersome to drive around.

Insurance costs are much lower than other travel vehicles. The bigger and more expensive your vehicle, the higher the insurance costs.

The travel trailer maintenance side is much easier. You should be able to do much of the maintenance work yourself, at home.

Travel trailers are widely available across the United States. Camping trailers are one of the most popular vehicles in the United States, so you should have plenty of choices, whether you choose to buy a new or used trailer.

There is a healthy used market for camping trailers. You'll find a good selection of used travel trailers at very reasonable prices.

For most families, a travel trailer is an economical option. Campground fees are much less than booking a room in a hotel. Plus, you can stock the trailer with all the supplies, water, and food you need for your trip.

A truck camper is very pet-friendly. You don't need to worry about finding a per-sitting or booking them into a doggie hotel. Instead, you can take your furry friends with you when you travel.

You'll have a lot of fun if you invest in a travel trailer. You'll have great fun exploring the country and enjoy meeting other members of the travel trailer community.
Do travel trailers have any disadvantages?
It's only fair to mention some of the downsides of owning a travel trailer:
If you want your travel trailer to provide a premium experience, it can work out to be expensive.

Not all vehicles are suitable for towing a truck camper.

Every time you stop, you'll need to make sure towing hitch is working efficiently.

You can't travel inside a travel trailer, unlike a motorhome.

Travel trailers tend to have fewer amenities than a larger RV.

You may be restricted in the places you travel.

Travel trailers are often limited in space.

You'll find a travel trailer less comfortable than an RV.
What to look for when buying a travel trailer?
There is a lot to think about when buying a travel trailer. Here are some tips to help you make your decision.
Decide on the best size: As well as thinking about aesthetics and comfort, choose a travel trailer size your pickup truck or car can pull. Also, make sure it has enough space for the things you want to take with you on your travels.

Make a wish list: Make a list of the things you'd like to have in your travel trailer, and then determine which are "must-haves" and "non-negotiable."

Is there enough storage: If there's sufficient storage, you'll be able to keep your trailer organized and keep the clutter packed away?

Consider your lifestyle: What do you plan to use your trailer for? Will you use it all year round? How many people will be inside the trailer, and how tall are they?

Drainage system: A straight shoot to waste tanks is better because it's less likely to clog.

Match your tow vehicle: Your tow vehicle should be rated to tow the gross weight of your trailer, including the weight inside the trailer.

Don't rule out buying a used travel trailer: Vehicles of all kinds tend to depreciate quickly, and travel trailer depreciation rate is no different.
What type of vehicle do you need to tow a travel trailer?
When it comes to the type of vehicle you need to tow a travel trailer, it's mainly down to the weight of the travel trailer and the vehicle's towing capacity.
Capacities can vary significantly, depending on the setup of the tow vehicle. You should find the towing capacity of a vehicle in the manufacturer's specifications. A vehicle's maximum payload and tow rating are linked to the configuration of the axle and the vehicle's engine size.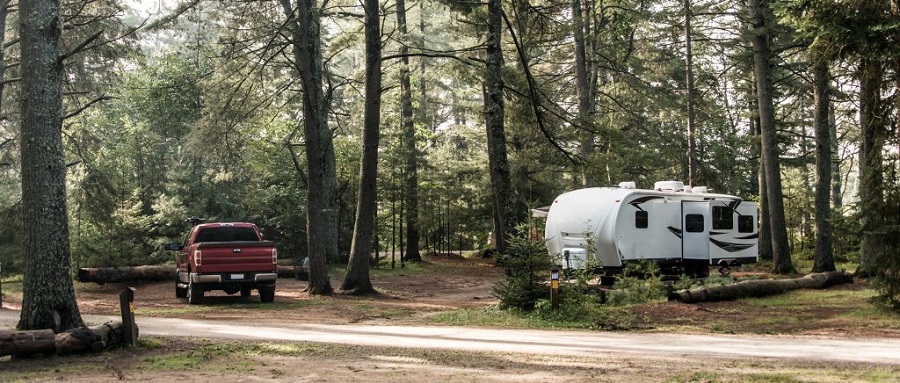 There are, however, some basic guidelines that will give you some indication.
Small SUV: Should be able to tow 1500 pounds safely

Mid-size SUV or light-duty pickup truck: May be able to handle up to 3000 pounds

Full-sized SUVs and half-ton pickup trucks can tow a travel trailer of 8000 pounds or more
If a vehicle is specially equipped with a tow package, it should be capable of hauling a much heavier load.
It's crucial that you don't overload the tow vehicle because it can lead to several issues. You won't be able to steer effectively, and it can prevent your vehicle from coming to a complete stop in time. In the long term, your tow vehicle's braking system will show early signs of wear and tear, and the engine is more likely to overheat.
How to improve travel trailer security?
As the fourth most stolen vehicle type, enhancing your travel trailer's security is crucial. It prevents damage, vandalism, and theft while reducing travel anxieties. Here are main steps to follow to safeguard your vehicle and enjoy worry-free adventures:
Upgrade to high-quality RV locks and deadbolts with modern features.
Keep important documents in a waterproof, fireproof safe.

Use coupler, tongue, hitch, and chock locks.

Upgrade door and window locks.

Consider wheel locks and trailer hitch receiver pin locks.

Invest in a GPS tracker.

Install door and window alarms.

Mount security cameras with motion detection, night vision, and remote viewing.

Use dummy security cameras for deterrence.

Use window coverings to shield contents.

Install motion sensor lights for a semblance of occupancy.

Add unique markings to deter thieves.

Use personal RV Wi-Fi.

Avoid sharing location details on social media.

Secure all valuables.

Park in well-lit areas, near barriers, and acquaint with neighbors.

Build a consistent security routine and get insurance.
What is the difference between a travel trailer and a fifth-wheel trailer?
The main difference between a travel trailer and a fifth-wheel trailer is the hitch mechanism. A travel trailer typically uses a "ball and coupler" hitch to connect it to the tow vehicle. At the same time, a fifth-wheel uses a "jaw hitch" that attaches it to the bed of the tow truck.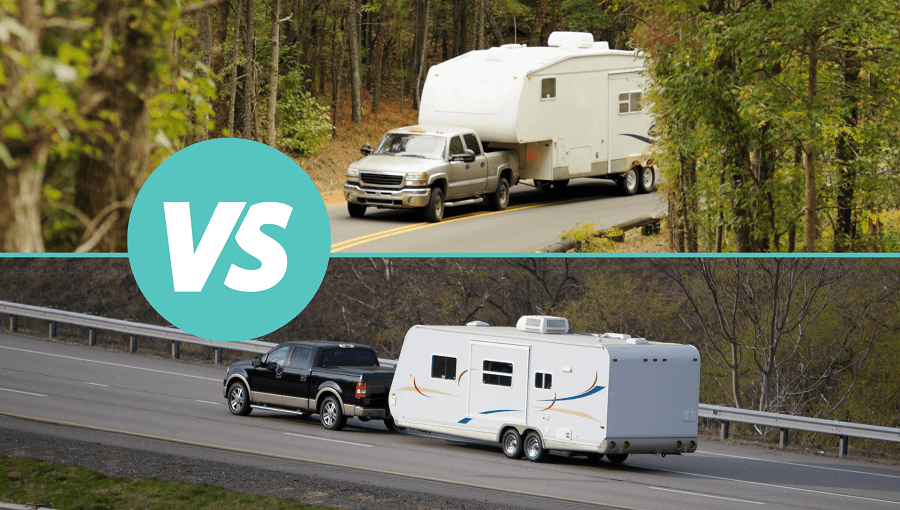 There are several other differences, for example:
Cost: Fifth-wheels is more expensive than a travel trailer

Multiple levels: A fifth-wheel will have steps in the interior cabin, often to get to the bedroom or bathroom

Total length: It has a large area overhanging the truck bed, which provides more living space than a travel trailer

Exterior storage: This is often larger on a fifth-wheel

Fuel economy: A fifth-wheel is heavier and usually has a higher profile which reduces fuel efficiency

Ceiling height: A fifth-wheel has a significantly higher ceiling than a travel trailer

Luxurious features: A fifth-wheel is much bigger, so there's more room for luxury features
What is the difference between a travel trailer and a toy hauler?
The main differences between a travel trailer and a toy hauler are to do with weight and interior space.
Toy haulers have a very sturdy frame which makes them heavier than RV travel trailers. There is also a garage area, which may take away from the interior space of the trailer.
Conclusion
Travel trailers are increasing in popularity, particularly during the recent pandemic. With a travel trailer, you can escape from the stress of everyday life, explore the countryside and maintain social distancing. In addition, you don't need to worry about using restrooms, restaurants, or public lodging.
A travel trailer is one of the more affordable ways to enjoy the RV lifestyle, and you can use a truck or family SUV to tow one. They're available in a wide selection of sizes, prices, and designs and are much simpler and cheaper to get started than purchasing a motorhome.
FAQs
1. Are travel trailers considered vehicles or equipment?
A trailer might not have an engine, but it is considered to be a vehicle as it is hitched to another vehicle to be moved. As it is regarded as a road vehicle, it is subject to specific regulations that you must comply with.
2. Is a travel trailer considered an RV?
RV stands for recreational vehicle, which is a motor vehicle or trailer that includes living quarters designed for accommodation. Travel trailers are a type of RV, along with motorhomes, caravans, popup campers, truck campers, fifth-wheel trailers.
3. Are camper trailers safe?
It is perfectly safe as long as you hitch your travel trailer correctly. Ideally, you should have your tow vehicle and trailer set up correctly with the right hitch and equalizer bards. It's also advisable to fit an anti-sway device, special braking system, and adjust your tire pressure.
4. Is it worth buying a camper trailer?
This is a difficult question to answer because it all depends on whether you're going to use it and whether you can afford it. We've already touched on the benefits earlier in this post, but let's highlight some of them again. A travel trailer gives you the freedom to travel and camp but still have access to a kitchen and bathroom at any time.
If you pick one that's the right size, you'll be able to fit the whole family, your pets, and some guests if you want to invite someone to stay for a night or two.
With a travel trailer, you'll make some great memories and have lots of fun on the road exploring new places.
5. What is the average cost of a camper trailer?
Camper trailers can vary in price significantly. A new travel trailer will cost much more than a lightly used one. In general, you can expect to pay the following:
New trailer: Typically costs between $11,000 and $25,000

An average condition 24' travel trailer will cost around $23,000
6. How long do travel trailers last on average?

Travel trailers typically have a lifespan of 10-20 years, depending on factors such as build quality, maintenance, and usage. Regular care, including timely repairs and proper storage, can significantly extend their longevity. However, exposure to harsh weather and excessive wear can shorten their lifespan, necessitating more frequent replacements.
7. Can you live in a travel trailer?
Yes, living in a travel trailer is possible. It offers a nomadic lifestyle, blending freedom with simplicity. However, challenges arise: maintaining consistent power, water, and sewage solutions; ensuring reliable internet for work or communication; facing varied weather conditions; and handling potential space constraints. Regular maintenance and cleaning are necessary, as breakdowns can be disruptive. Lastly, finding legal and safe overnight parking locations requires careful planning and research.